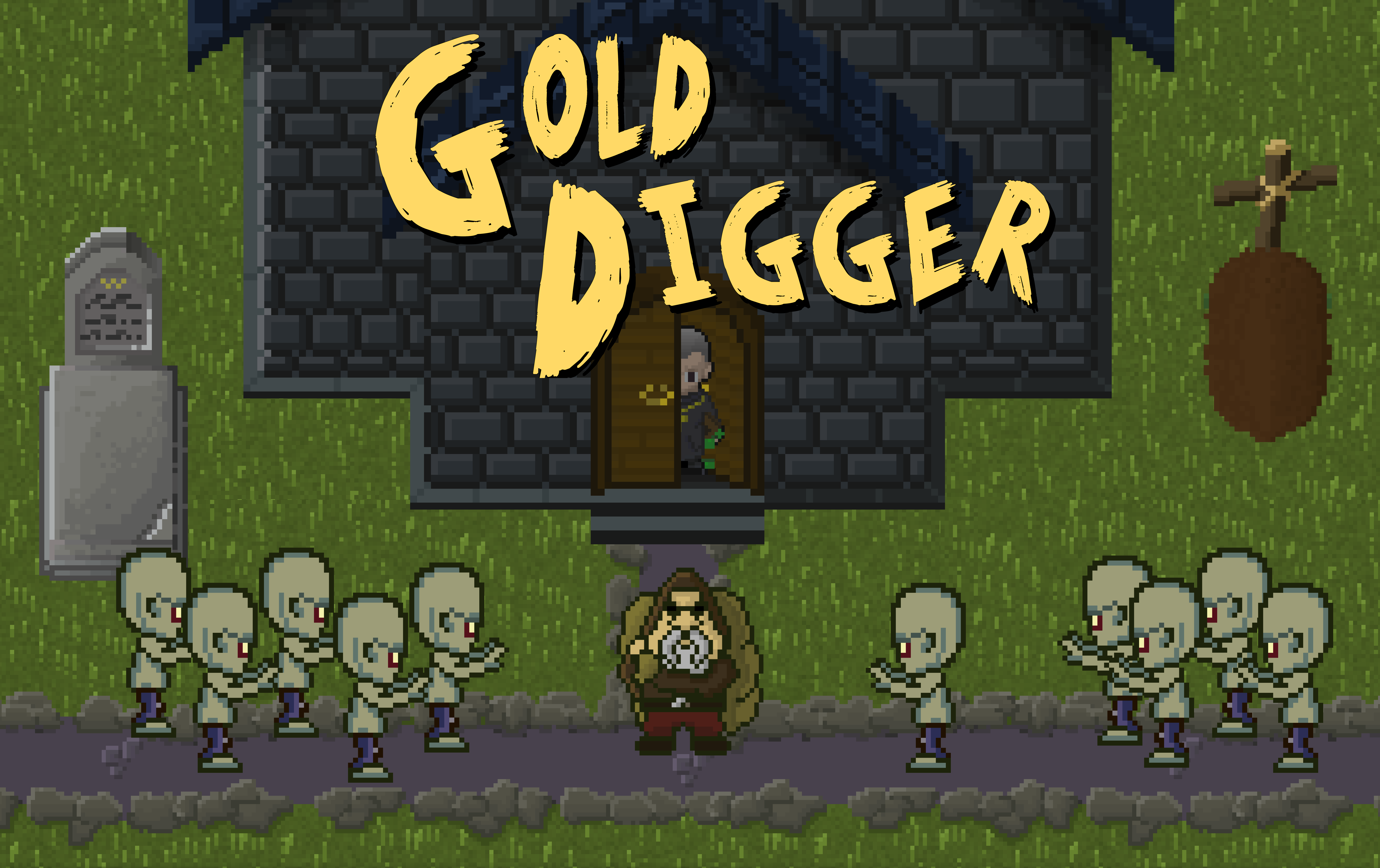 Gold Digger

Gold or Zombies, it's up to you, but beware not to be too greedy!

You find yourself in a old and dark cemetery. Wouldn't it be great to dig out all those buried treasures and get rich? But be careful because as soon as you start digging, a curse will fall on you...
A cupid priest is ready to give you shelter. But you will have to pay him in order to enter the chapel. Dig, get gold, run away from the zombies, pay the priest and shop for upgrades! Be careful not to fail too many time though, with too many zombies, it will be hard for you to come back in the chapel!
In short :
Dig treasures out of the graves in order to please the cupid priest.

Play a mini-game as you dig and aim for the gold.
Beware because if you fail, Zombies will hunt you down!
Too many zombies means that coming back in the chapel will be hard!
It is up to you if you want to keep digging or pay the priest for a shelter.
Pay the priest for upgrades and get even more gold!
Will you be the first one to dig all the graves in the cemetery?
Will you be able to get rich and resist the greed ?
Find out by playing!

Various zombie classes
Many upgrades for your character
3 graves levels :

Peasant : just a few gold, you won't get rich by digging those
Noble : if you're lucky enough, you may find some treasures!
Lord : a grave with many treasures!

Gigantic map
An unexpected cliff-hanger
Oppressive and interactive soundtrack

Music and sound effect by Gabriel Sauvage


Augustin LEITAO - Producer
Emma UNUCIC - Producer
Pierre-André GIROMPAIRE - Lead developper
Laure GILLI - Lead Game Designer / Level Designer
Yoav BENSADOUN- Graphist
Gabriel SAUVAGE - Sound designer
Damien LAURENT - Developper
Pierrick CHEVRON - Developper
André PIMENTEL - Game Designer
Alexandre DOMMERGUES - Game Designer